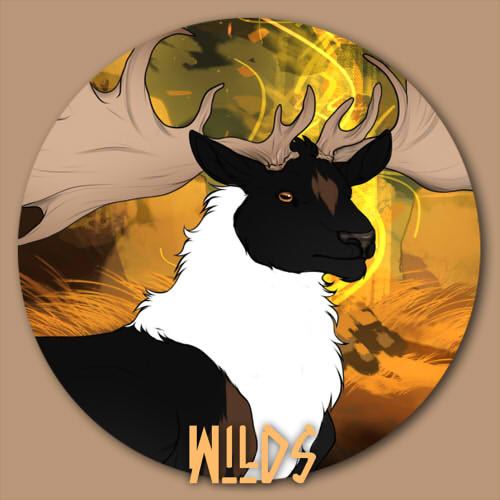 Welcome!
Wilds are beasts who roam the lands of Prehistoria in search of purpose. Are you ready and willing to give them a new home?

A special kind of beast roams the lands of Prehistoria from time to time: Wilds. Unlike NPCs, which belong to the group, or regular Imports, which belong to players, they do not have a place they can call home yet. Until they find it there is a chance for every player submitting activities to encounter it and, with some luck, to tame it. Once tamed the Wild belongs to the lucky player and is no longer available for other players to catch.
After a Wild was tamed there is usually a break of two (2) weeks before the next Wild is released. There is also the possibility of special Wilds during events like the Bloodmoon Event.

All Wilds have a special badge in their Import description, similar to NPCs and Gods or Goddesses. This way they are easily discernible from other player Imports.

There is also an exclusive Harmony Prompt for everyone who succeeded in taming a Wild:
"You've come across a Wild and have colored them impressed. Just how exactly did you manage to do that?"
This acts as a usual HP prompt and may be rewarded to the listed three beasts present within the entry. However, one of the beasts in question must be the tamed Wild in order for this prompt to work. It is not necessary to use the official beast(s) that encountered them during an activity roll.

To check whether or not there is currently an available Wild you can have a look at our deviantArt group page or on the homepage of our website. In both places you can find a section for Wilds including the currently available Wild or a date for the release of the next Wild.

How to tame Wilds
Wilds have a chance to appear in any regular activity (Hunting, Fishing, Discovery, Foraging) as long as the player filled the activity form out correctly and added a "Yes" behind "Attempt to tame a Wild:". The Wild itself does not have to be depicted or mentioned in your entries. Should you want to add it nonetheless feel free to do so, it will not count towards the max amount of beasts allowed in your entry but also not return any loot either.
The chances of encountering a Wild can be directly influenced by the quality of your activity. While quickly sketched entries have a rather low chance, well-thought and time-invested pieces have a much higher possibility of meeting a Wild. There is also the option of using the Bait-Item, which increases the chances as well!
Once a beast came across a Wild, it will be automatically rolled if it was sucessfull or not. The Wild will skitter off should the attempt fail until the next person crosses their path again. It is possible to meet the same Wild several times before successfully taming them!

Rules:
– Tamed Wilds may not be sold for any real-life currencies such as USD, €, etc.
– Neither is it allowed to sell them for deviantArt Points or similar online currencies, which are based on real-life money.
– It is allowed to trade tamed Wilds for Beads, other beasts or in-game items for example.
– They may also be gifted to other players.

Current Wild:
Previous Wilds: