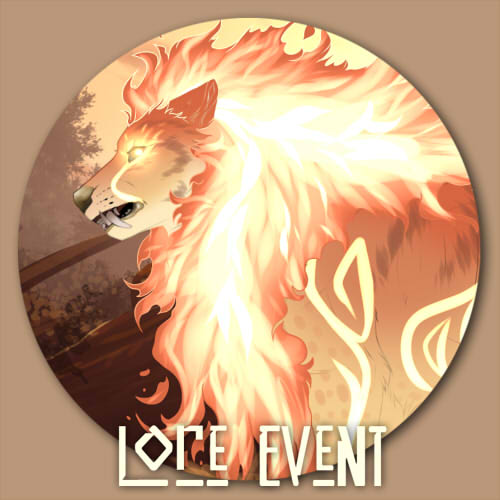 Welcome!
It's time to spread some love again and discover the reworked Lore behind Hasswei and his return!
This event is open until February 28th, midnight EST!
THIS EVENT IS NOW CLOSED!

Welcome to this year's Valentine Event!
Hasswei's was probably the god with the least amount of Lore and known characteristics before we started our rework. We're happy to announce that this will finally change and he will get his official return Lore during this event! Just like the last times, there will be a small game with parts of the Lore as prize. Have a look at the bottom of the page to find out more!

Special HP Prompts and Themes:
Just like in previous events, we have four new Special Prompts and Themes for you to draw:

Prompt 1:
Your beast invited their crush/lifemate to a romantic date. How did it go?

Prompt 2:
As the creator of the Valentines Event, Shaggy is always pleased to meet everyone and give advice on the subject of love. Does your beast want to meet him?

Theme 1:
Romance

Theme 2:
Gallantry

As with all Event Special Prompts these (and the old ones on our Harmony Prompt and Themes page of course) will give you event loot next to 10HP for the duration of the Event!
All entries have to be submitted to our Harmony Prompts – Event Harmony Prompts Folder in our dA group to have the loot rolled!

Special Game:
During this event, we have a new game for you as well! This time it's all about searching for Runed Sunstones. Every day, for the whole duration of the event, we will hide one Runed Sunstone somewhere either here on deviantArt or on our website (a list of excluded pages can be found after the possible prizes part).
Once you found a Runed Sunstone, you send the group a note with the link to the page you found the sunstone on. An Admin will randomly roll you your loot and we will add it to your stash!

Rules:
– There is no limit to how many prizes you may claim, as long as you found the Runed Sunstone hidden that day
– You have to send us a group note. Comments on the group page or somewhere else will be hidden/deleted!
– Please do not share where you found the Sunstone with others, we would like to have everyone looking for themselves!
– Since the prizes are rolled randomly, Admins may partake in this game

Possible Prizes:
– Event Loot
– Slots to Primals
– Rare and Exotic Items (no regular activity items though, all of them will have a use!)
– Companions
– small pieces of Lore

Places you do NOT have to search on:
– Any page that is not linked on our Welcome!-Post on dA OR that is not linked on the pages found on our website
– The Mini-Announcement and Website Update pages
– News and Archives on the website
– CaveSpeaker Gallery